A recent report by McKinsey & Company offers retailers reasons to hope that consumers are once again spending money in the wake of the COVID-19 pandemic.
Looking at October 2021, researchers found that consumer spending is beginning to return to pre-COVID levels. Not completely, but there are signs that indicate a continued steady growth in spending. They note, however, that some of that growth is attributable to inflation.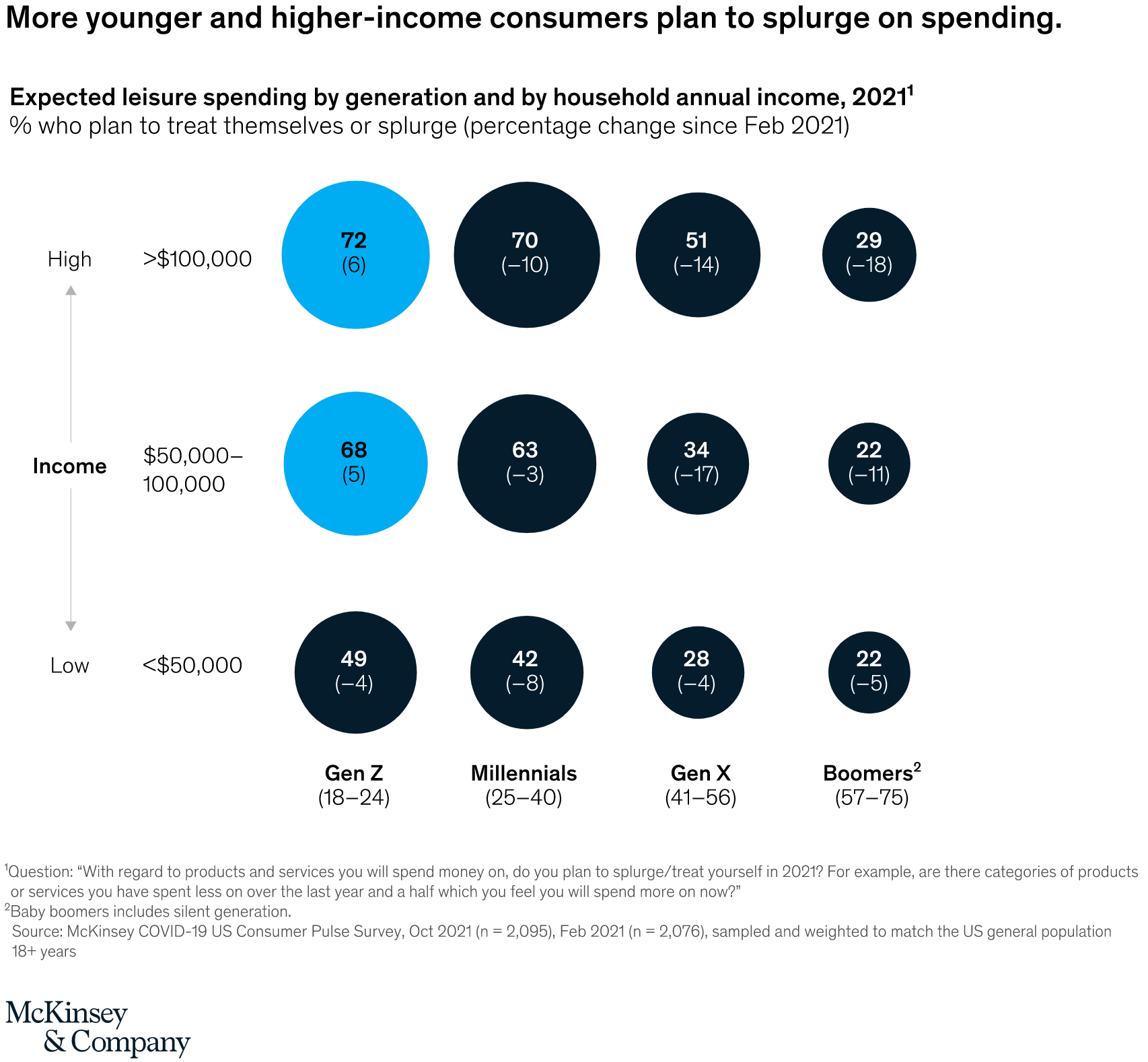 Optimism returning
Researchers found that 44% of US consumers are feeling optimistic, including 66% of high-income consumers. Interestingly, so-called millennials are feeling the most optimistic, though all generations are contributing to increased consumer spending.
Both online and brick-and-mortar stores have increased their spending year-to-year. The trend towards omnichannel shopping continues to grow. Social media exerts a lot of influence on the purchasing decisions of everyone, to some degree, but not surprisingly, younger consumers are more impacted by what they see online than other groups.
In a sign that COVID anxiety is waning, more Americans indicated leaving home for activities, including work, shopping, and socializing. Despite this change, consumers continue to spend more on home improvement projects than they did pre-COVID.
Reason for Caution
Not all of the news was positive, however. According to McKinsey & Company, over 60% of American consumers had recently experienced out-of-stock items. Only 13% of those consumers waited for the item to return to stock, while 39% switched brand or product, and 32% switched retailers.
Obviously, supply chain management continues to be an important challenge as manufacturers, suppliers, and retailers continue to deal with the reverberations of the supply chain disruptions caused by the pandemic. Trends indicate that consumers are quick to transfer loyalties to products and retailers with the availability to meet their needs in the moment, making supply chain management more important than ever.
Supply chain visibility's importance
The survey's results highlight the importance of supply chain visibility. Consumers are sensitive to stocking issues. They won't wait for a re-stock when comparable products are available elsewhere. It's imperative to monitor inventory to best meet consumers' needs.
To take advantage of consumers' improving mood, retailers must ensure they're well-positioned with their products. Having a complete view of the entire supply chain helps managers adjust production to best avoid stocking issues that could cost customers and consumer loyalty.
How can QIMAone help?
The experts at QIMA continue to monitor the ongoing concerns posed by the COVID-19 pandemic and are ready to partner with you to navigate whatever challenges you're facing.
QIMA has helped hundreds of clients successfully manage disruptions by facilitating 360-degree supply chain visibility through inspections, standardized reporting, mapping and real-time data collecting.
QIMAone software ensures end-to-end quality and compliance monitoring, helping you and your partners stay up-to-date on how you're reacting to trends. Empower your people to respond to sourcing, delivery and production risks before they lead to consumer disappointment.
To contact one of our experts, click here today.