Without question, the disruptions experienced in 2020 and the start of 2021 have wrought havoc for business leaders and communities on an unprecedented scale. While the Covid-19 pandemic captured much of the spotlight, the concurrence of several disruptive forces, including trade disputes, commodity price fluctuations and the increasing frequency and severity of natural disasters, are testing the complexity and increasing the costs of managing quality and compliance across your supply chain! Profit margins in the consumer goods and apparel industries are notoriously slim. Successful companies are always on the hunt for cost-saving opportunities.
This attention to the bottom line means many businesses are hesitant to make investments that don't have immediate returns. For instance, investing in quality monitoring and improvement with more advanced solutions than spreadsheets and emails could be seen as a secondary priority, but it would be a very costly mistake. According to Center for Global Enterprise, supply chain that tend to go digital reduce costs by 50%!
Successful businesses understand the importance of having a full supply chain visibility to avoid any production risk. Nike could have avoided its child labor scandal in Pakistan if they had invested in a modern solution achieve complete visibility across their supply chain. According to a survey from Statista, We know at QIMA that lack of visibility leads to an increase of defective products and poor-quality production.
While the outlay of resources is easy to quantify, understanding the costs behind not modernizing quality control are a little harder to understand. Failing to modernize quality improvement practices exposes a company to an assortment of potential costs that can easily be addressed through the implementation of up-to-date quality management software that digitizes and standardizes reporting and analytics to allow for smoother communication and enhanced efficiency.
In this article, you will learn what are the additional costs you may face if you wait too much before modernizing your supply chain quality management.
Ineffective quality management leads to defective merchandise
Imagine a manufacturing process with five steps spread across five machines. The cutting machine responsible for Step Three is off-kilter and has been incrementally making parts more and more poorly. No one has noticed because the factory's quality management practices aren't specific enough to catch the decline. As of today, the parts that the cutting machine makes are unacceptable, but the assembly line continues to move along. Finally, after a full day of the factory making defective products with a broken cutting machine, someone notices during a pre-shipment inspection that the defective completed pieces need rework and cannot be shipped to the stores.
That's a full day's production lost, and valuable materials wasted. In terms of actual money, quality-related costs can swallow as much as 20% of your sales.
With appropriate Quality Management tools in place, brands and factories can anticipate this costly situation with more self-inspections conducted by the factory workers along the production line to catch defects and defective products earlier in the process. Defects can be anticipated and avoided by identifying root causes and by adapting the procedure accordingly.
Major defects create longer lead times and delayed shipments
In addition to the monetary costs of replacing defective or poorly made goods, poor quality control contributes to a loss of time and results in late shipments. Time spent idle results in lost money and opportunity. Customers could be left disappointed. That's especially vital in the apparel and consumer goods sectors, where trends shift quickly.
Good quality management responds to reductions in quality quickly. Time spent waiting for repairs is reduced, and production is more likely to stay on schedule


Poor communication with suppliers results in corrective inefficiencies and preventive failures
Old style, manual quality management is slow and vulnerable to human errors like poor handwriting and lost forms. This results in slow, inconsistent communication that's difficult to act on.
Regarding our example of the broken cutting machine: even if someone noticed the machine's failures, the process for reporting the failure and receiving corrective orders could still take long enough to result in the continued production of defective goods.
Multiple points of standardized quality control along the production line would have allowed the factory staff to notice the defects caused by the defective machines. Management would be informed proactively and given the opportunity to find a solution and establish preventative actions.
Poor quality impacts brand image, customer loyalty, and product reviews negatively
Finally, consider the circumstances if the defective products hadn't been noticed by the diligent packer. In that case, consumers receive products that don't meet their expectations. Those items are returned, which is expensive for manufacturers—often, the cost of handling a returned product is more than the cost to originally make it.
More importantly, the company risks losing the customer's loyalty to the brand. That results in lost future sales. In the worst-case scenario, the customer expresses their disappointment in online reviews. Since many—if not most—consumers today begin their purchasing decisions by searching online reviews, that defective product could impact a lot of potential customers' decisions. In fact, recent studies support what marketers have already assumed. As many as 22% of potential consumers can be driven away by a single review they read online.
Preventing defective products from reaching consumers through a robust digital supply chain quality management platform should be a priority.
Manual quality control takes a lot of resources, and does a poorer job
In factories where quality control is managed manually, once a product doesn't meet required quality standards, inspectors list the defects by hand, usually using paper documentation. There is an increased risk of human error and inconsistent reporting. The report is often then scanned and sent by email to the quality manager. This process has several issues: the data may not be populated into actionable dashboards, the results could not be cross-checked by product and locations to identify patterns of risk and managing corrective and preventative actions is a pain for the quality managers who end up lost in a ton of emails.
That process is so slow, it's hard to effectively initiate quality improvement and to prevent potential risk in the future. Personnel are so invested in the managing of paperwork that they have little time left to devote to actual quality improvement or the development of other products and opportunities. Decision-makers using antiquated quality control programs are at a distinct disadvantage because it's so difficult to get a full understanding of overall quality trends when reports are diffused across multiple filing systems and formats. Despite all this effort, only 15% of respondents to a 2018 NC State University survey said their existing quality systems produce data they can trust.
Given the amount of commerce done online, quality issues are more important than ever. According to Shopify, as many as two-thirds of products purchased through the Internet are returned for reasons related to preventable quality issues. That's a lot of lost revenue and wasted resources.
Managers struggle to understand the money they're losing through their old Quality management software because they don't even know what they don't know. A digital QMS gives them the data they need to move quickly to save—and make—more money for the business.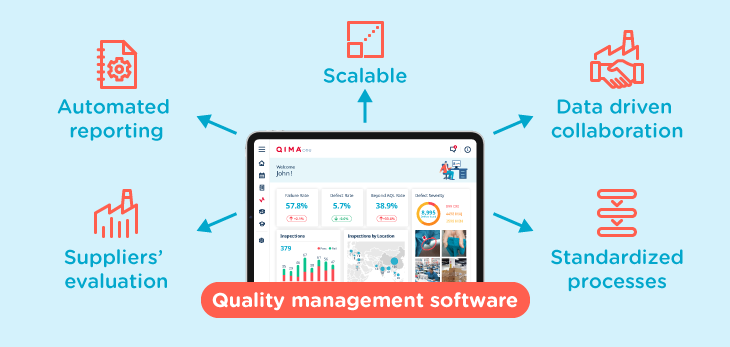 Digital QMS reduces costs
A modern, digital quality management system addresses all of the failures of an old-school paper-based quality control program.
A digital Quality control platform provides easy pathways for real-time evaluation of quality metrics using standardized practices that breakdown barriers of language and distance. Checkpoint results and measurements are gathered more effectively using a mobile app then quickly turned into reports that help to make faster decisions about the state of the merchandise (pass or fail). All the data collected are then populated in dashboards built around the business's needs and easily transmitted to management. This allows for quick implementation of corrective action plan and thorough evaluation of a suppliers' quality compliance.
With easy and efficient quality reporting, small challenges are tackled before they become disruptive to the overall production process. This reduces the number of defective products that reach the marketplace to almost zero, helping to establish and maintain a company's reputation for providing quality goods that meet consumers' expectations.
Digital quality management systems like QIMAone frees members of your quality team from manual and repeated tasks and allow them to focus on projects that add value to your processes, like developing improvement programs with suppliers. The rest of your workforce benefits from the Quality control platform because data is easily shared across the organization, including marketing, support, and product development teams.
Finally, a data-driven, collaborative Quality control platform is scalable. You'll have options that benefit your business, no matter how small you are, and you'll be able to adapt when your success helps your endeavor grow. Implementing a data driven QMS helps your company to build a solid competitive advantage thanks to a culture of quality excellence that your customers will notice.
How can we help?
At QIMA, we believe in the alliance between software solutions and human expertise. With more than 4000 inspectors available performing quality control and audits in 48 countries, we understand exactly your challenges and we are ready to support you. The QIMAone platform closes the gap between third party controls and the self-inspections done by the factories or by your own team. Built with our expertise acquired from millions of inspections, QIMAone puts advanced quality management into your teams and supplier's hands using powerful yet intuitive technology to ensure you get accurate inspection reporting that let you make decisions based on reliable information.
With a Quality Management System like QIMAone, companies can save up to 50% on the time they devote to managing quality, and up to 60% of the overall cost of quality management efforts. But only QIMAone comes with the expertise of QIMA's quality management experts, who are based around the world to ensure your business gets the training and support to make the best use of your investment.
To learn how QIMAone can reduce business costs, watch our exclusive demo video or book a live demo with our experts if you have more questions.