Real-time supply chain visibility is one of three common types of supply chain visibility (SCV), along with multi-tier and end-to-end. Real-time SCV refers specifically to attaining "live" information, or data, on what is happening in your supply chain. In this article we break down how companies benefit from having real-time supply chain visibility and the challenges faced in attaining it.
Recap: What Is Supply Chain Visibility?
Supply chain visibility (SCV) is the knowledge and understanding of operations throughout an entire supply chain (including all stages and operational processes). This enables companies to better manage the flow of products and components through each step of the supply chain.
Supply chain visibility helps ensure suppliers are compliant with all necessary regulations and reduces risks and disruptions within your supply chain. SCV also can help increase customer satisfaction, productivity, and ultimately, profits.
More Info: Supply Chain Visibility


Key Takeaways
Real-time supply chain visibility provides supply chain managers with live insight into what is happening at each stage of the supply chain.
Real-time supply chain visibility improves your ability to react quickly to disruptions or defects and fix the issue before it becomes a major problem. This leads to fewer disruptions, increased product quality and customer satisfaction, reduced costs, and an assurance of regulatory compliance throughout the supply chain.
Real-time data is useful in many different use-cases in the supply chain, including stop-ship orders to maintain product quality or inventory tracking to ensure efficient delivery.
What Is Real-Time Supply Chain Visibility?
Real-time supply chain visibility refers to up-to-date knowledge and understanding of what is happening at this exact moment in your supply chain. Real-time visibility allows you to monitor operational processes at each stage of your supply chain as they occur. Real-time supply chain visibility most commonly refers to the tracking of products between each stage of the production, the technical status of machines and the location of goods traveling from manufacturers to end consumers.
Gathering real-time information on your supply chain enables managers to react quickly to disruptions and better predict problems in the future. This leads to a reduction in costs, fewer disruptions, and a competitive advantage.
5 Benefits of Real-Time Supply Chain Visibility
Today, only 31% of companies frequently use real-time data. However, real-time SCV is becoming increasingly popular every year. Companies taking the lead on real-time SCV benefit from the enhanced predictive abilities, reactivity, and agility that real-time information provides. Real-time data allows you to adjust to market trends or potential disruptions faster than competitors, providing a major competitive advantage to companies that utilize a strong real-time data strategy.
1. Reduced Disruptions
Real-time supply chain visibility helps you detect potential issues before they arise. Live information allows for faster response times and more informed decision making, helping you mitigate risk across the supply chain as a whole.
For example, among the most common applications of real-time SCV is production and shipment tracking in real time, which helps avoid late deliveries that may disrupt other stages of the supply chain or cause customer complaints.
2. Reduced Costs
Up-to-date knowledge of developments in the supply chain allows you to make decisions based on real-time information, rather than predictions, which helps to reduce waste and increase efficiency.

Real-time SCV helps you reduce costs associated with:
Wasted workforce time: Reduce down time by having a more accurate schedule.
Inventory levels: Make more accurate predictions on when and where inventory is needed, and how much inventory should be stored to meet customer demand.
Transportation: Ensure efficient routes are taken and obstacles are avoided.
Inaccurate amounts of raw materials: Source specific materials as they are needed.
Unexpected market disruptions: Avoid disruptions caused by events such as geopolitical unrest, natural disasters, or pandemics.
For example, real-time SCV can provide early warning of variables that impact transportation, such as traffic or weather. Companies can use this information to reassess their shipping route, which may save fuel, avoid damaged goods, and avoid wasting employee time taking reroutes or waiting for late deliveries.
3. Improved Product Quality
Real-time data enables you to iterate faster and with more information, leading to improved product quality. Real-time supply chain visibility is a crucial aspect of quality control monitoring, and allows you to detect and solve quality issues faster.
4. Customer Satisfaction
In our on-demand economy, customer expectations around delivery time and product quality continue to increase. Real-time tracking of all supply chain operations helps you reliably meet these expectations, ensuring customers have a good experience with your brand.
5. Regulatory Compliance
Real-time SCV helps ensure compliance with regulatory requirements throughout the supply chain, such as import and export requirements, environmental regulations, and requirements surrounding worker safety. Knowledge of exactly how and when things are happening allows you to fix potential compliance issues before they cause disruptions, recalls, or even legal actions. Real-time SCV also enables you to track changes in regulatory requirements and adapt your supply chain in a timely manner.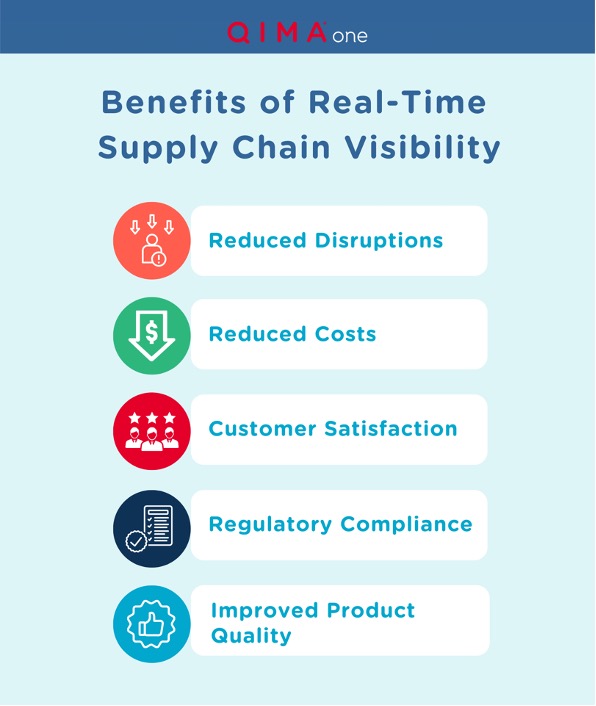 How to Increase Real-Time Supply Chain Visibility
While increasing real-time supply chain visibility can be a daunting task, the benefits it provides make the initial investment worth it. Here are a few ways to increase real-time visibility in your supply chain.
Map Your Supply Chain
Begin by creating a map of each supplier and process in your supply chain in order to identify gaps in information and pain points in your supply chain. A detailed map allows you to understand how information is currently being gathered, how quickly information is being gathered, and where more visibility is needed, helping you identify areas for improvement and build an accurate picture of your baseline in order to measure progress in the future.


Leverage Technology
Competitive businesses today are increasingly relying on digital technologies to increase visibility and enhance agility and resilience in their supply chain. Technology has myriad benefits, from turning large amounts of data into useful insights to automating select processes within manufacturing. Supply chain technologies that increase real-time visibility include:
Collaborative dashboards used to analyze, monitor and standardize reporting on a single platform and to share information across the supply chain
Artificial intelligence, used to create accurate plans and models, anticipate risk, and interpret data
Process automation, used to automate supply chain processes
Internet of things, used to monitor and exchange many types of data, from shipment status to storage conditions
Cloud computing, used to store, manage and process data securely
Technology like supply chain quality management platforms are one of the best tools you can use to gather real-time data, as it makes it easier to gather and process information quickly. All of these technologies described above also help you make faster, more informed decisions that rely on accurate, thoroughly analyzed data.
Invest in Employee and Factory Worker Training
Technology alone is not sufficient to truly maximize the benefits of real-time SCV. It's important to provide in-depth training to your employees on how to make the most of new technologies and increased information. Businesses that ensure communication and collaboration throughout the supply chain increase their productivity and resiliency, and ultimately, increase profits.
Monitor Progress
Increasing real-time supply chain visibility is an ongoing process with opportunities for continuous improvement. Ensure that progress towards your goals is monitored carefully, using specific metrics to measure growth.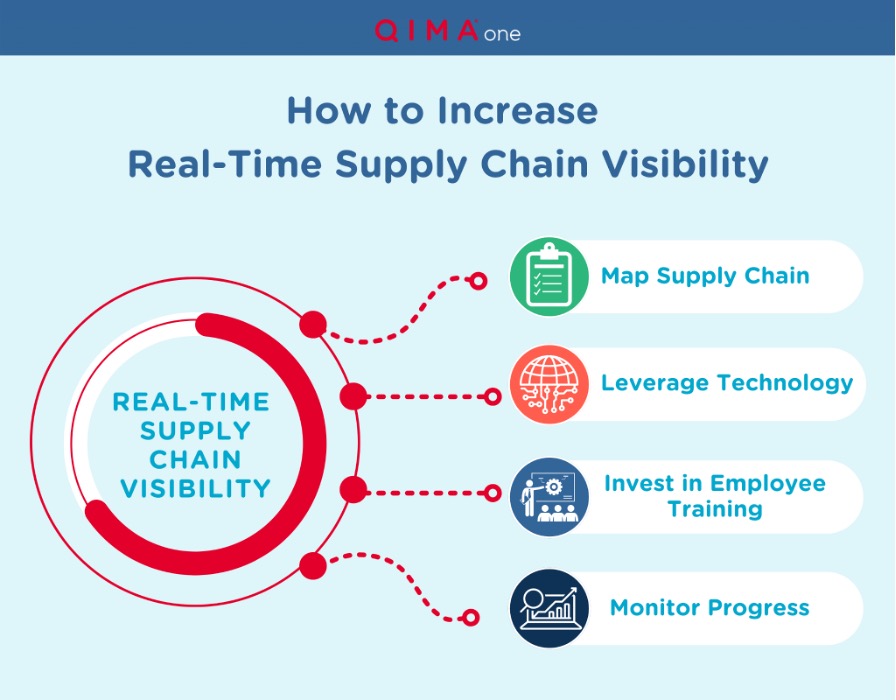 How QIMAone platform can help
QIMAone quality and compliance platform offers an intuitive solution to easily map your supply chain from the raw material factories to the warehouses and retail stores. QIMAone gives supply chain leaders including quality control and compliance managers a complete picture of your sourcing landscape.
Would you like to learn how you can leverage supply chain tools to help you gain more visibility in your supply chain? Book your free strategic call with our experts today!
Related Articles